The Dose: Marvel Comics Review Roundup for Feb. 26, 2015
Nicholas Friedman / Features Editor
With this summer's "Secret Wars" event approaching, things are trucking along in the Marvel universe. Spider-Man's newest friends are all getting new series, with Silk #1 premiering last week and Spider-Gwen #1 this week, The Black Vortex is continuing it's domination of the galaxy, and the X-Men are still having trouble figuring out what's going on.
In other comic book news, Idris Elba (Heimdall), Anthony Mackie (The Falcon) and Hayley Atwell (Peggy Carter) have all confirmed they will reprise their roles in May 1st's "Avengers: Age of Ultron" film. Also, Stan Lee drew a picture of Spider-Man for an 8-year old boy with autism. Keep on fighting the good fight, Stan, and check out this week's new releases.
Spider-Gwen #1
Writer: Latour  / Artist: Rodriguez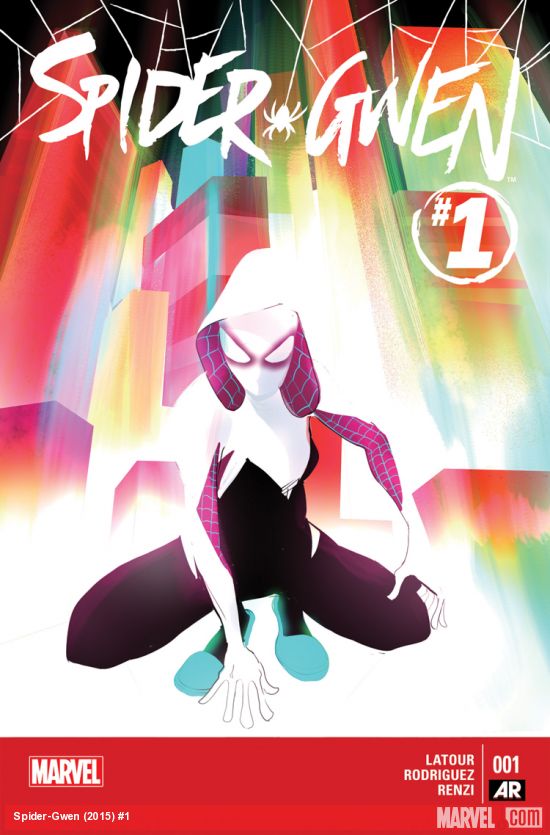 Moviegoers will know Gwen Stacy as Peter Parker's girlfriend, based on her portrayal by Emma Stone in "The Amazing Spider-Man" film series, but comic readers are about to see her as a lot more than that.
Spider-Gwen takes place in an alternate reality where instead of Peter getting bit by the radioactive spider and becoming Spider-Man, Gwen is bit and becomes Spider-Woman. Of course this will eventually result in the death of Peter Parker by Gwen's accidental hand, and Gwen will vow to always protect the people she cares about.
Overall, the first issue introduces the world of Spider-Gwen very nicely, setting up some great villainy for the rogues gallery while keeping a somewhat lighthearted and modern tone. It's an interesting twist on what readers are used to. In this series, for instance, The Punisher is just a detective, not a ruthless vigilante.  Regardless, it's always good to see a fresh, new hero in comics, especially from Marvel.
Should you read it?
If:
– You want to see Gwen Stacy kick ass and take names. Plus her costume might be one of the coolest out there.
– You're looking for a fresh take on the age old spider bite story.
All-New X-Men #38
Writer: Bendis / Artist: Sorrentino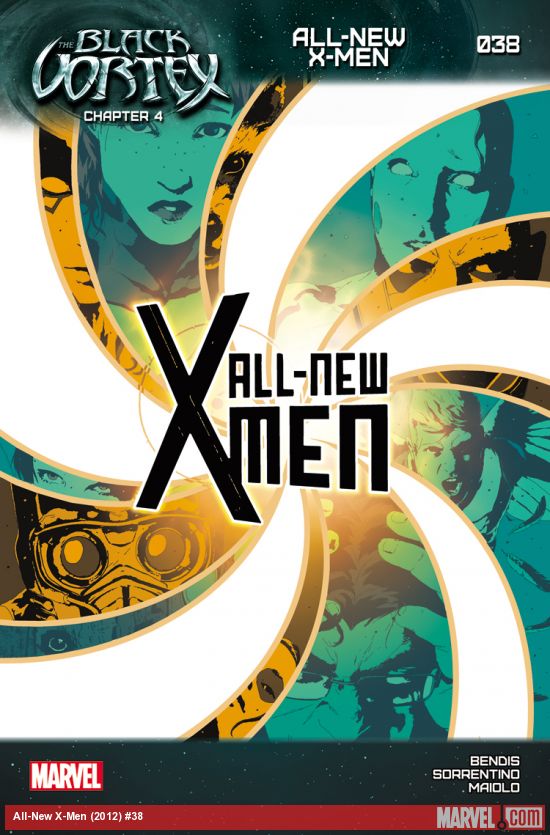 The X-Men find themselves still wrapped up in the conflict of the vortex in chapter four of the X-Men/Guardians of the Galaxy crossover event, "The Black Vortex."
With the overpowered Gamora, Beast and Angel looking for a way to submit everyone to the power of the vortex, the X-Men continue to deliberate how to get it back. They end up getting some possibly unwanted help from Ronan The Accuser, the Kree judge who was played by Lee Pace in last summer's "Guardians of the Galaxy." He is much less of a bad guy in the comics.
So Ronan takes the vortex, and that's it. Star-Lord also comes up with a crazy idea that just so happens to work, and he and Kitty Pryde seem to be on good terms — for now.
Should you read it?
Because:
– The story seems to be falling flat. The appearance of Ronan is exciting, but it has yet to go anywhere.
– It doesn't seem to be worth the time or money. Hold off until next week.
Darth Vader #2
Writer: Gillen / Artists: Larroca
I think Marvel has really found their calling in Star Wars comics with this series, so I won't spoil much. One of the biggest gripes that readers have is knowing what happens because of the "Star Wars" films, but in this solo series, nothing is compromised because of that.
The main "Star Wars" series is dry because it relies too heavily on the films, while "Darth Vader" shows us a side of the Dark Lord we only caught glimpses of.
For perspective, the opening shot of this issue is Vader making some close calls and saving an important fleet of the Empire while piloting his TIE Fighter. Very, very cool.
Should you read it?
Because:
– Vader really knows how to intimidate. Writer Gillen has struck gold.
– Star Wars has such a lengthy lore, and this serves it well.
Photos courtesy of Marvel.com